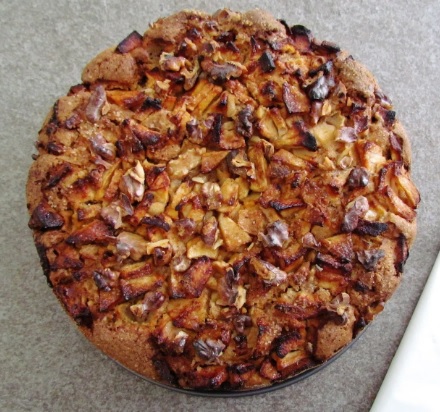 Apple Walnut Cake
Ingredients
1

Egg

¼

cup

Vegetable Oil

1

cup

White Sugar

1

tsp

Cinnamon

1

tsp

Baking Powder

½

tsp

Salt

1

cup

All-purpose Flour

½

cup

Raisins or Dates, chopped

1

cup

Apples, peeled, cored, and diced

½

cup

Walnuts, chopped
Instructions
Preheat the oven to 375°F. Lightly grease an 8×4" loaf pan or a 6-inch cake pan with cooking spray.

In a large mixing bowl, combine the egg, oil, and sugar. Mix well.

In a separate bowl, mix the dry ingredients: cinnamon, baking soda, salt, and flour; combine well.

Gradually add the dry ingredients to the wet, beating well until smooth.

Fold in the raisins or dates, apples, and walnuts.

Pour the batter into the pan and bake for 25–35 minutes. The more your batter has spread out in the pan, the shorter the baking time you will need.

Watch carefully, and you will know it's done when a toothpick inserted in the center comes out clean.