What To Write In A Wedding Card? Things You Must Know
Finding a good wedding card and writing appropriate wishes in it can be tricky. Most of the people are confused about what to write in a wedding card. They do not know how they can express the feelings and congratulate the person on his or her wedding. Well, there are no particular rules of writing the wishes in a wedding card. All you need to know is that there are no certain rules of what to write in a wedding card. Unlike the rules for letter writing or application writing, you can write what you like in wedding card. However, one thing that you must be aware of is that the wish varies according to the relationship that you have with the person. There are no rules, but there are etiquettes of writing something in a wedding card. For example, you can write anything you like to the friend that is close to you. Starting from jokes to the serious and religious wedding wishes, you may like to write anything. However, to your co-worker, you may not be able to write everything because, in some ways, there may be a formal relationship more than a friendly relation. So you can say that once you determine what sort of relationship you have with the person to whom you are writing the wedding card, it becomes easy to write something in it. Below are certain types of wedding wishes that you can write in a wedding card. Hope that you will find them helpful.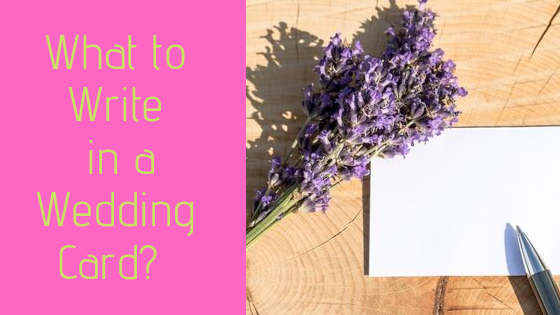 Writing a Wedding Card Informal Manner
A formal wedding does not always have to contain the formal wishes. However, if you still like to stick with the idea of a formal wedding, here you go with some formal wedding wishes.
Wish you a lot of love and happy life. Always enjoy your time together.
The wedding day is only a single day that will come and go. But make it sure that your love stays there forever!
Today is the beginning of a wonderful journey. Two people are going to travel on the road that may contain a lot of obstacles, ups, and downs. Always hold the hand of each other no matter what the situation is. Happy wedding!
It is the day when two people are going to get bonded together. Use the glue of love to keep it there forever!
Thank you very much for letting us experience the bonding of a beautiful pair. May this pair stay together forever. Congratulations!
Hope that there is a lot of love, joy and happiness waiting for you in the upcoming years. Happy wedding. Stay blessed
The wedding is the name of a bond that ties two people together. Strengthen this bond by love and care. Many many congratulations on your marriage
May the smile that is on your face today stays there forever and hope that you will shine brighter in the coming years. Happy marriage
Writing a Wedding Card in a Casual Manner
There are a lot of people out there that do not feel comfortable if they put a formal wish on a wedding card. Therefore, it becomes a matter of question for that that what to write in a wedding card? If this is the case, you may like to go with the short and simple casual wedding wishes.
 "Best wishes for your future. Happy wedding."
"congratulations."
"many many congratulations on your marriage."
"It is so good to see you getting married. Congratulations!"
"It was brilliant to celebrate this beautiful day with you guys. Happy wedding."
These wishes may seem too simple and too short, but they are enough if you meant what you are saying. Sometimes, a simple congratulation is far better than a long congratulating phrase. Depending on the situation and your relation with the event, even these casual wishes are enough.
Writing a Wedding Card in a Funny Manner
Okay, now there are times when your best buddy is getting married. Or it is the wedding of your brother with which you have done all stupid things. Maybe it is your cousin with whom you have jumped across the roofs, ran through the streets and teased the strangers. So you will be willing to write either something too serious or something too funny. Following are some funny wedding wishes that you can write in the wedding card for such person.
Be excellent to her, or else we will see you soon roaming on streets at night.
"Thank you for inviting us to drink and eat while you get married. Congrats!"
I thought that it was all a waste of time to attend your wedding before the food was served. Anyways, happy marriage
Always use the precautionary measures before you go to bed. Or else, you will regret for the upcoming several months (it may be inappropriate depending on your relationship with the couple).
Marriage advise for you: try to get your home sound proof or else your neighbors will also hear how much insult you will go through on daily basis.
Conclusion
There are three different type of wedding wishes mentioned above. You can choose any of them and write it on your wedding card. However, when it comes to what to write in a wedding card, always ensure that you have a clear vision of what sort of relationship you have with the person whom you are writing the card as the nature of the relationship matters a lot. The wish you write may be appropriate for one person, but it may not be good to write for the other person. Therefore, always be careful about what you are going to write. Moreover, there are certain people who do not like jokes and such other things. Thus, when it comes to writing something in wedding cards, particularly if you are going to write something funny, ensure that the next person will not mind what you are writing to him or her.